Investigation to take a few days
Posted:Jan 08, 2014 11:16 AM MT
Last Updated:Jan 08, 2014 11:16 AM MT
AltaLink is investigating reports about dozens of dead ducks near one of its transmission lines in southwest Alberta.
Retired scientist David McIntyre raised concerns after he found duck carcasses under a newly-built transmission line north of Pincher Creek.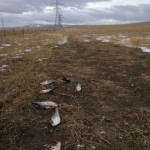 A retired scientist took this photo of what appears to be dead ducks underneath a transmission line being built in the Pincher Creek area. (Submitted by David McIntyre)
McIntyre estimates the deaths may be in the hundreds based on a 10-minute walk along the line he took on Dec. 31.
Judging from the damage to ducks, he thinks they may be hitting the line in bad weather when they can't see it.
The company is sending workers to an area near Pincher Creek and may install "flappers" to help make the lines more visible.
Director Scott Schreiner says it appears it happened near an existing line and not near one of the new transmission lines under construction.
"We've sent a team of environmental experts from AltaLink and external providers down to investigate. Normally, what we try to do is mitigate any impact on the environment of our facilities. That includes bird contacts."
The team will walk up and down the transmission lines in the area and may also do a bird count. While the company performs environmental assessments and can use some techniques to divert birds, Schreiner admits some conflict with birds is unavoidable.
"Whether it's a phone line or a telephone tower or a house, birds have collisions with those aerial facilities."
AltaLink will need a few days to investigate the reports. The company has notified Alberta Environment about the incident.