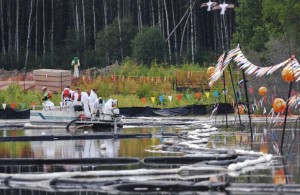 Canadian Natural Resources Limited (CNRL) workers cleaning up the bitumen emulsion on this marsh after it seeped up through a fissure under the water at their Primrose oilsand projects north of Cold Lake, August 8, 2013. A total of four sites have this seepage.
Photograph by: Ed Kaiser , Ed Kaiser
By Sheila Pratt, Edmonton JournalSeptember 24, 2013
EDMONTON – CNRL has been ordered to drain a small lake on its oilsands lease near Cold Lake and find a way to contain the bitumen seeping into the bottom of the lake before the winter sets in.
The province's environment protection order, released today, requires the company to drain much of the lake, come up with a permanent "containment plan" for the bitumen that has been seeping for about six months from fissures in the rock into the lake.
This spring, CNRL reported bitumen leaking on four sites on their lease at the Cold Lake Air Weapons Range with only one site involving a body of water. In the three other cases, the fissures have been located and surrounded by berms to contain the seeping bitumen.
The company has to find a way to permanently contain the seepage under the lake with the goal of replacing the water in the spring.
The order also calls for an amphibian protection plan when about two-thirds of the lake is drained into the remaining one-third. Some of the water will also be dispersed into the surrounding forest.
more to come …