By Bryce Forbes, Calgary Herald September 20, 2012 7:36 AM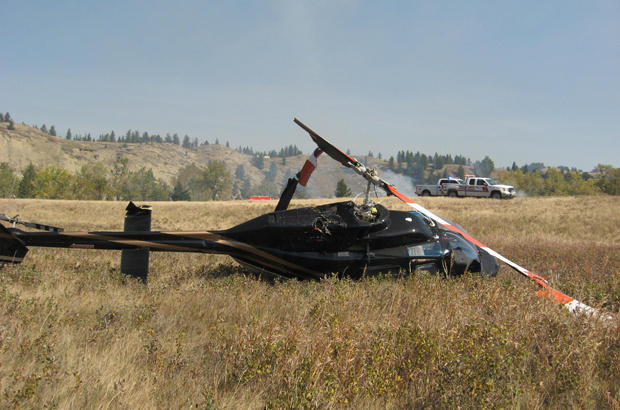 Both the pilot and passenger walked away with no injuries after their helicopter flew into a power line near the Cowley Glider landing strip in southern Alberta and crashed on Sept. 19, 2012. The downed power lines caused a fire in the field.
Photograph by: Courtesy , RCMP
Two men walked away injury-free after a fiery helicopter crash near Cowley, Alta.
RCMP say two Calgary friends took off from a field and made it about 500 metres before they struck a power line and crashed back into a pasture west of Lethbridge.
The downed power lines started a fire in the field.
The Pincher Creek fire department extinguished the fire quickly with the help of local residents and farmers.
The 60-year-old pilot was experienced, and was flying back to Calgary.
RCMP and Transport Canada continue to investigate.
© Copyright (c) The Calgary Herald